What initiated as a talent & artist management agency in 2005 has now emerged as a multi-functional entertainment establishment. And it's none other than Exceed Entertainment. This versatile entertainment fir is a pioneer in the entertainment management industry.
Headquartered in Mumbai, the team of Exceed Entertainment attends a detailed understanding of aspects of the entertainment value chain. Some of the aspects include:
Digital influencer advertising

Brand ambassador

Artist management

Production & syndication

Film marketing

Sports hospitality

Licensing

Merchandising

Live event management
Since its advent in 2005, the talent management company www.exceedworld.co.in has focused on representing a varied portfolio of artist management from the 21st-century entertainment universe.
Artist Management – Exceed Entertainment's Core Service 
Amongst the different aspects of the entertainment value chain, Exceed prioritises artist and talent management. This artist management agency concentrates on upscaling their artist management services by packaging & promoting their artists. That's how they accomplish business opportunities across brand, film, and content portfolios. For one decade and a half, the company has managed and marketed some of the most prestigious names in the entertainment sphere of India. 
The best example is the U.S. Polo Assn., the United States Polo Association's official brand, which wanted to retail in the country by Arvind Fashions Limited. The company announced Arjun Rampal as India's brand ambassador for the brand. That was the first time having an Indian ambassador for a celebrity endorsement in the country.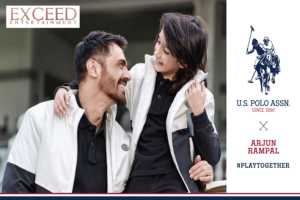 The brand came out with the "Play Together" campaign for India's brand association. The campaign's main intention was to capture the playful and emotional bond between a father & child by twinning the look. The prime purpose was to draw parallels and make it relatable to prospective audiences. 
Exceed Entertainment recommended Arjun Rampal for the Autumn Winter and Spring Summer collection that drew instant parallels – kudos to his real-life persona that made it relatable to fans. Being one of the talent management companies in India, it facilitated the campaign. Later on, it was out on digital and print platforms, and the brand look got unveiled in around 392 Indian stores. 
Bridging the Gap between Celebrities & Brands to Influence Target Audiences
Associating with a celebrity or brand ambassador will proliferate a brand's influence on target audiences. Exceed Entertainment works with brands to comprehend their communication and marketing requirements – from PR celebrity engagements to partnership associations and long-term endorsements. The team recommends and implements well-researched solutions to accomplishing goals.
The company forges significant associations by creating iconic associations between artists and brands. One of them is for D2C – the Ayurvedic nutrition brand. Since its inception, this Ayurvedic brand "KAVIPA" has intended to raise awareness of Ayurveda amongst customers. When it started contemplating its brand association in India to promote Ayurvedic solutions for hair, skin, digestion & weight management, Exceed served it in plenty.
Besides recommending Malaika Arora as the brand ambassador, the company made her the strategic investor and got her on board. This talent management company also facilitated a wellness team comprising nutritionists, doctors, innovators, and food technologists in the universe of Ayurvedic wellness.